REVIEW: 'ONCE A YEAR ON BLACKPOOL SANDS' – ATTITUDE MAGAZINE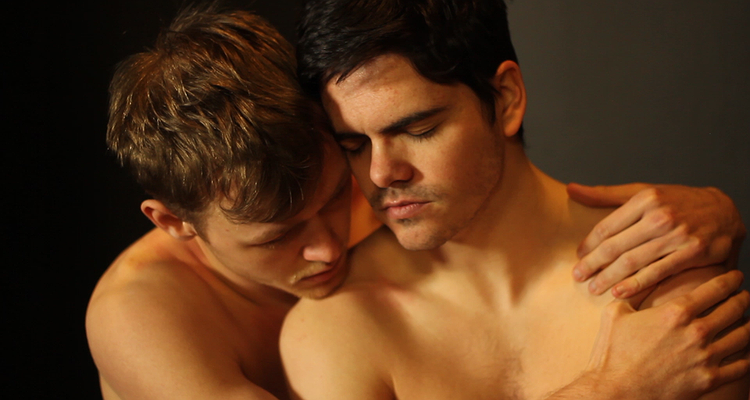 ★★★★
Karl Parry's period romantic drama comes to 3MT Theatre for the Greater Manchester Fringe Festival.
The Greater Manchester Fringe Festival is flourishing, with a seventh year bursting full of great theatre. There are shows crammed into every nook, cranny and ginnel and a strong commitment to showcasing LGBT+ work.
Amongst the gems on offer is Once A Year on Blackpool Sands, the true love story of two miners from Yorkshire in the 1950s who cast off the soot and grime each Summer for some sex and some sun and a stroll up the Golden Mile (undoubtedly a euphemism for some now defunct sexual practice).
Our handsome young miners, Eddy and Tommy, arrive in Blackpool with Eddy having booked them into the Windsor Hotel, away from Tommy's parents, for the first time.
The Windsor is already a home to outsiders. Gladys, a middle-aged ex-chorus line girl, manages the establishment. She does her best to keep her mother, Red Ethel, a Communist showgirl who is fairly free with her favours to men and women, away from guests, whilst training her not very cooperative daughter, Maureen, in how to run the place.
When Eddy and Tommy check-in, the only other guest is a transvestite, Mr James Eldridge, whose cross-dressing skills need a polish if he's to achieve his goal of confidently walking the stretch between Blackpool's three piers.
The basic premise of the play has a lot of comedic potential and much of it is realised. Linda Clark as Red Ethel is brilliant as the foul-mouthed, faded radical with plenty of vim still left in her. Clark relishes the language and lands every joke in her punchy dialogue.
Wendy Laurence James's Gladys has stepped straight out of a Joe Orton play and oozes frustrated sexuality. The comedy scenes all bounce along, aside from a few strained "muff" and "rim" gags and there is a good sense of a dysfunctional but connected family amongst the three women.
Tommy and Eddy's story is quite different in tone. This is an intense love story full of desperate actions, loneliness and a caustic secret that must be revealed if their relationship is to survive.
Their affair is passionate and affecting. Kyle Brookes portrays the impact of Eddy's troubled past with strength and integrity.
Macaulay Cooper is fantastic as Tommy, capturing perfectly the conflict between joyfully expressing the love he feels and being terrified of anyone finding out for the shameful consequences that would follow. Cooper's performance of 1950s innocence and internal struggle is utterly convincing and the pair are an electric couple on stage.
There is some difficulty of tone between the two parts of the play, and this becomes more apparent in the second half as things become more serious. And there are some scenes where characters just seem to be talking without much plot.
But overall, Karl Parry's script convinces. The direction was a bit cumbersome, allowing the pace to drift and as series of scenes to be played with the same mood and tone repeatedly, but the strong central performances carry it.
As a summer treat, Once A Year on Blackpool Sands, is definitely something to book up for. It is funny, surprisingly political and full of revelations.
Words by Stephen M Hornby. Originally published here: https://www.attitude.co.uk/article/two-miners-begin-illicit-50s-love-affair-in-once-a-year-on-blackpool-sands-review-1/18485/