UPDATE: KARLTON PARRIS HEADS TO INDIEGOGO TO CROWDFUND FOR INDEPENDENT FILM ONCE A YEAR ON BLACKPOOL SANDS: AN LGBTQ FEATURE FILM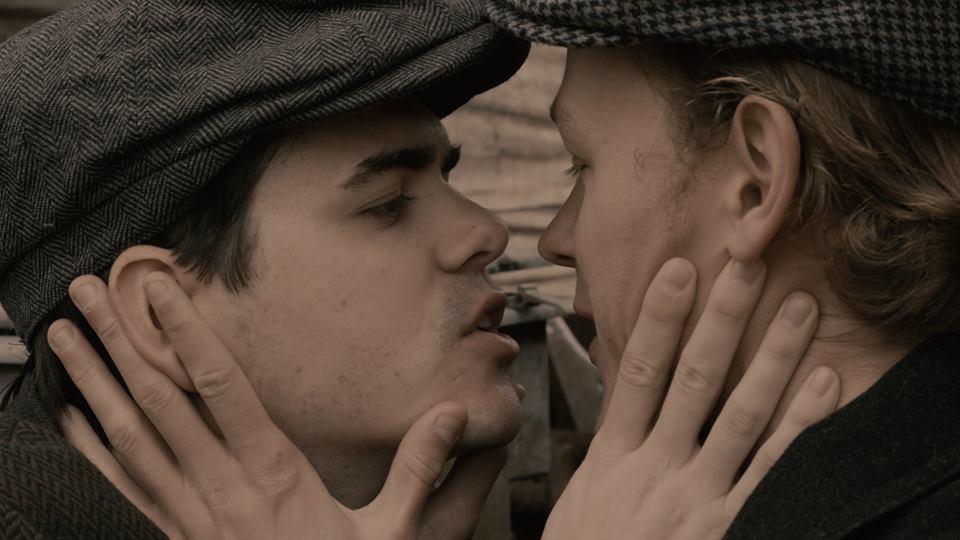 Once a Year on Blackpool Sands, is a moving comedy-drama about the love, identity and courage of the LGBTQ community during the first walk towards Gay Pride in 1950s England.
The Fan Carpet are pleased to share the news that Karlton Parris is heading to indieGOGO for his new LGBTQ Film Once a Year on Blackpool Sands!
Based on the real-life events of Yorkshire coal miners and secret gay lovers, Tommy and Eddy, who spend their annual week holiday at a quirky B & B in Blackpool, along with a few other alternative members of society – the transgender Mr. Elbridge, the ex-show girl Red Ethel and the eccentric owner Gladys and her flirty daughter Maureen. The film takes us on a rollercoaster journey through the North of England to the beaches of Greece, as we follow each character's fight for equality and freedom in an age that still deemed being gay, or "different" as a crime.
Our protagonists find courage in one another's bravery and initiate the first walks towards gay pride in the UK as they walk the length of Blackpool pier, defying prejudice and abuse. As we grow to love our characters, we grow to learn that without the courage and bravery of individuals throughout history, we would not be where we are today; and although the world likes to pigeon hole into subcultures and marginalise us into repression, the LGBTQ community and anyone of a so-called "minority" in the modern world are bold, unstoppable and here to share their story. This film is not a sad story, it's an active tale of hope and triumph that deserves to hit the cinema screens!
Here is a film that celebrates diversity and how love's motivational power can be a catalyst for change. A deft, witty and moving screenplay, and stellar performances, showcase what we can bring to the UK indie film industry. Written and directed by Karlton Parris and based on his hit stage production which toured the UK and off-Broadway New York, our film is currently in production across the UK, with a talented cast and crew full of passion and vigour for the film, and the hope and excitement it will bring to audiences and aspiring filmmakers out of the mainstream.
Queer people are not weird, nor should they only be supporting roles; they are stars of their story and that is what we want to inspire with our film: it's true that when we see ourselves on screen, we see that we are valued, active members of the world.
Head to indieGOGO to support the film and be a part of filmmaking history!
About Karlton Parris, the Writer/Director
Karlton Parris is a creative member of the LGBT community with over 30 years working as a writer, director, actor and lyricist, whose direct experience of the loss of his loved one at the hands of AIDs in the 1980s, led him to Greece, where he met the real Eddy Corkhill and Tommy Price – two gay lovers suffering from AIDs, who would then die later that year. They shared their story to Parris, of how just once a year, on Blackpool Sands, they were given a space where they could just be, and be free to love, away from the punishments and judgements of society. They spoke of how they not only liberated themselves, but others hiding in the dark of their identity (transgender, lesbians, bisexual and so on) as they bravely chose to walk, hand-in-hand, the length of Blackpool pier as openly gay and proud! Their heart-breaking, yet painfully funny, recollection of their love invoked a passion in Parris that would lead him to write and produce a production and dedicate his art to sharing their story. Through years of honing the script, it went onto the stage, and received unanimous praise. Parris now knew it was ready to bring it to the screen!
Article originally published by Fan Carpet: http://thefancarpet.com/movie_news/karlton-parris-heads-to-indiegogo-to-crowdfund-for-independent-film-once-a-year-on-blackpool-sands-an-lgbtq-feature-film/